Length: 33,5 km
Dificulty: difficult
Bikes: road bike, cross bike, mountain bike

The trace leads from Donovaly to Liptovská Osada and then through Liptovské Revúce and gap Velký Šturec to village Motyčka. We return back on the road with difficult rising back to Donovaly. The trace leads on the roads.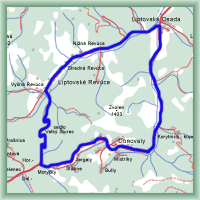 Click to show full-size map
| | | | | |
| --- | --- | --- | --- | --- |
| Dist. | Location | Elevation | Marking | Description |
| 0,0 | Donovaly | 960 m n.m. | | state road 59 / E77 |
| 12,0 | Liptovská Osada | 609 m n.m. | | |
| 16,0 | Nižná Revúca | 640 m n.m. | | |
| 19,0 | Stredná Revúca | 680 m n.m. | | |
| 20,5 | Vyšná Revúca | 710 m n.m. | | rising |
| 24,5 | Sedlo Velký Šturec | 1010 m n.m. | | abrupt slope |
| 28,5 | Motyčky | 678 m n.m. | | state road 59 / E77, rising |
| 33,5 | Donovaly | 960 m n.m. | | |
| | |
| --- | --- |
| | it is possible to ride at parallel road through Štubne, Jergaly and Sliačany |