Length: 65 km
Dificulty: difficult
Bikes: cross bike, mountain bike

The route starts Hnúšťa by the railway station. The first rise is to the saddle Brezina. Then by downhill on the frist crossing to the left, on the next crossing to the right. We continue through village Rovné and rise to Ratkovská Suchá. Then we go down to Ratková. In this village we turn to the left to Ploská, then to the right to Červeňany. We continues through Rákoš and Nandraž to Jelšava. There on state road No. 532 we turn to the right and after 1km to the left on road No. 526 to Štítník. We rise througn wood under the saddle Šebekoá. Then through Gočaltovo to Štítník and on state road No. 526 through Honce, Rožnovské Bystré, Rakovnica and Radná to Rožňava.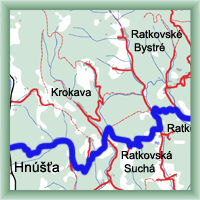 Click to show full-size map
| | | | | |
| --- | --- | --- | --- | --- |
| Dist. | Location | Elevation | Marking | Description |
| 0,0 | Hnúšťa | 300 m n.m. | | cyklo 38 |
| 14,5 | Ratkovská Suchá | 490 m n.m. | | cyklo 38 |
| 19,0 | Ratková | 300 m n.m. | | cyklo 38 |
| 26,0 | Rákoš | 320 m n.m. | | cyklo 38 |
| 29,5 | Nandraž | 295 m n.m. | | cyklo 38 |
| 35,0 | Jelšava | 270 m n.m. | | cyklo 38 |
| 51,0 | Štítnik | 300 m n.m. | | cyklo 38 |
| 58,0 | Rožnovské Bystré | 400 m n.m. | | cyklo 38 |
| 59,0 | Rakovnica | 350 m n.m. | | cyklo 38 |
| 62,0 | Rudná | 350 m n.m. | | cyklo 38 |
| 65,0 | Rožňava | 300 m n.m. | | |
| | |
| --- | --- |
| | view-point |
| | chateau |
| | chateau |