Length: 15 km
Dificulty: difficult
Bikes: mountain bike

The trace starts in railway station Červená Skala. The part from Šumiac to TV tower at peak Králova hora is difficultr. The road is in lower part broken and stony, but is getting better. The rise is 1170m, but the view is beutifull. Keep on the right side on the way back and be carfull.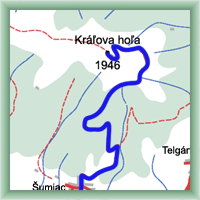 Click to show full-size map
| | | | | |
| --- | --- | --- | --- | --- |
| Dist. | Location | Elevation | Marking | Description |
| 0,0 | Červená Skála | 0 m n.m. | | asphalt road |
| 4,0 | Šumiac | 880 m n.m. | | paved road, sidewalk |
| 7,5 | Králova hola | 1946 m n.m. | | paved road, sidewalk |
| 11,0 | Šumiac | 880 m n.m. | | asphalt road |
| 15,0 | Červená Skála | 0 m n.m. | | |