Length: 18,5 km
Dificulty: difficult
Bikes: mountain bike

The trace starts in village Spišské Hanušovce and offers connection from Zamaguria to circle Podtatranský okruh. The trace is difficult because it is necessary to pass over peak Spišská Magura. It is possible to follow green tourist path and visit natural wonder lake Osturnianské jezero.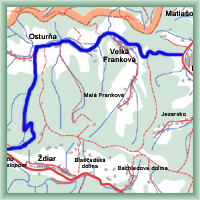 Click to show full-size map