Length: 60 km
Dificulty: difficult
Bikes: cross bike, mountain bike

The route starts in Spišská Belá and continues through the Slovenská Ves to Magurské saddle (difficult rise). Than the rooute goes slowly down into the valley of river Dunajec and through Spišské Hanušovce and Matiašovce to Spišská Stará Ves. There we turn to Červený Kláštor, direction Velký Lipník. In Haligovice we turn to the right. The second heavy rise is to Toporecké saddle. Then we go down through Topirec and on state road No. 77 to Podolínec.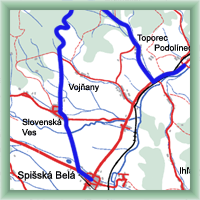 Click to show full-size map
| | | | | |
| --- | --- | --- | --- | --- |
| Dist. | Location | Elevation | Marking | Description |
| 0,0 | Spišská Belá | 640 m n.m. | | cyklo 31 |
| 14,0 | Saddle Magurské sedlo | 950 m n.m. | | cyklo 31 |
| 19,0 | Hágy | 700 m n.m. | | cyklo 31 |
| 29,0 | Spišská Stará Ves | 500 m n.m. | | cyklo 31 |
| 36,0 | Červený Kláštor | 480 m n.m. | | cyklo 33, turn to cyklo 331 |
| 45,0 | Veľká Lesná | 600 m n.m. | | cyklo 31 |
| 50,0 | Saddle Toporecké sedlo | 800 m n.m. | | cyklo 31 |
| 55,0 | Toporec | 600 m n.m. | | cyklo 31 |
| 60,0 | Podolínec | 580 m n.m. | | |
| | |
| --- | --- |
| | museum |
| | view-point |
| | chateau, museum |
| | view-point |
| | chateau |